---
Why Video Marketing?
Online video content is consumed more than ever which gives marketers a great opportunity and powerful channel for online marketing.
Video marketing continues to grow and your business has the opportunity to grow if you use video marketing. For example, including a video in an email will help to increase in click-through rate. Video will help you boost engagement, drive traffic to your website and generate leads or increase sales.
According to Wyzowl statistics, 61% of businesses have incorporated video as part of the digital marketing strategy. Indeed, if you do not include a video marketing strategy as part of your digital marketing strategy, you are losing a lots of prospective and current customers.
When a customer watches a video about a service/product, the video will help him/her in the buying decision process. So incorporating video marketing in your plan, you can accomplish some of your business objectives if you use videos strategically. Audience engages with a video content and shares or comments more than any content.
There are many reasons you need to know to use video marketing:
According to Wyzowl statistics, you can improve your business ROI, 76% of businesses say that video helps to increase the return on investment.
Videos watched on mobile have increased, YouTube reports mobile video consumption rises100% every year.
Video marketing will help you achieve your marketing objectives if you have a clear vision.
The benefits of using video marketing are:
Attracting users and grabbing their attention
Boosting engagement
Generating leads and Increasing sales conversations rate
Building a brand and raising awareness
Building trust and loyalty, trust is the foundation of a successful business
Gaining traffic to your website, your video will be shown in the search results page and get higher ranking through organic search.
Some statistics
According to ComScore, 45.4 percent of users viewed at least one video a month online.
Unbounce reports that including a video on a landing page can increase conversion by 80%.
YouTube reports mobile video consumption rises 100% every year.
According to Online Publishers Association, 80% of users recall a video ad they viewed in the past 30 days.
36% of online consumers trust video ads, according to NIELSEN Wire.
According to Break Media, video ad spending will reach $5.4 Billion by 2016.
46% of users take some sort of action after watching a video ad, according to Online Publishers Association.
After watching a video, 64% of users are more likely to buy a product online, according to ComScore.
YouTube users watch more than 3 billion hours of videos per month, according to YouTube.
Mist Media reports that the average internet user spends 88% more time on a site with video.
No doubt that video marketing is one of the best and effective marketing strategies you can have with your marketing mix. If you do not use videos in your marketing efforts, so it is time to consider using it for your business.
A video is helpful for a sale funnel, so you can use it to help a customer at every stage of his buying journey. For example, if customers want to see a product or service in action, so the product launch video will be highly effective to convince them to buy from you.
Video types can be educational, informative, promotional, how-to, Q&A, behind the scenes videos and much more.
Tip: Include Video in Your Email Campaigns
When you have an email marketing campaign, try to incorporate a video in the email to increase click-thought rate.
Tip: Set a goal for a video
Remember that a video has to have a goal to achieve what you want.
Recommended Posts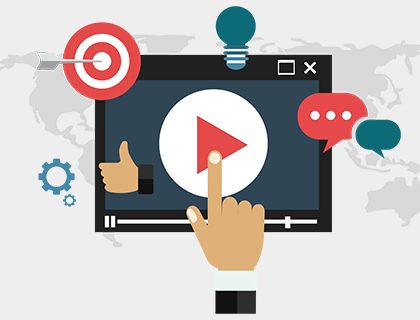 04/01/2018